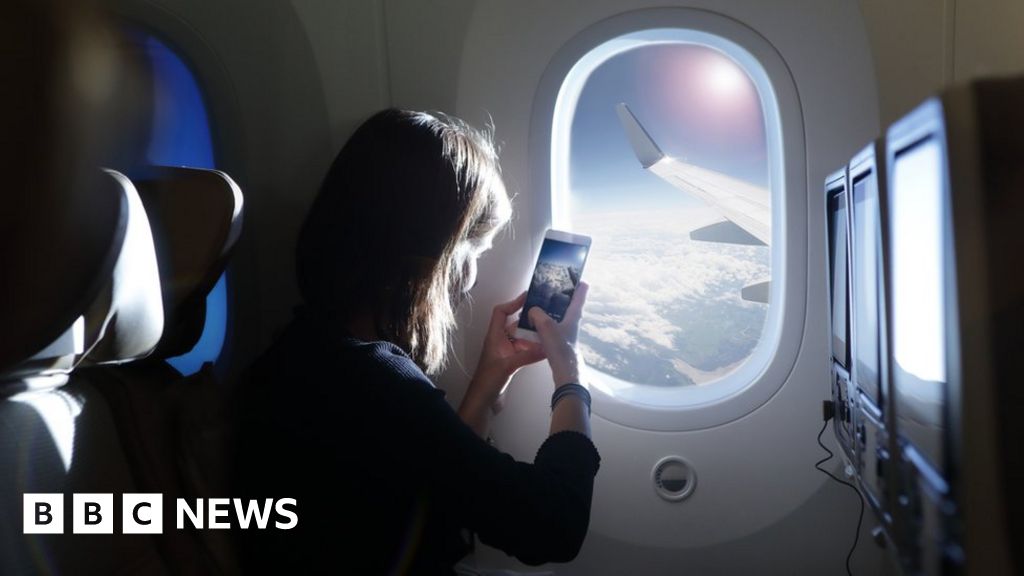 Climate change: Make people fly less, ministers told
The government must cut demand for flying and meat under plans to curb climate change, experts say.
bbcnews
Oct. 26, 2021

•

5 min

• Source
---
The government has been blamed for failing to reduce demand for flying and meat-eating as part of its plans to rein in climate change.
The Climate Change Committee advisory body says ministers also have not shown how to achieve their ambition of cutting the demand for road travel.
It warns a "techno-centric" approach to cutting emissions adopted by the prime minister has a high risk of failure.
But a report from the committee praised the government's Net Zero Strategy.
A government spokeswoman welcomed the CCC's generally positive response to the Net Zero Strategy and said it would meet all its climate change goals.
Boris Johnson has regularly promised that climate change can be tackled without what he calls "hairshirtery".
Many experts agree technology is needed but say behaviour must change too.
They judge that the demand for high-carbon activities must be cut for the UK to meet climate targets in the 2030s.
The report from the CCC - an independent body advising the UK and devolved governments on emissions targets - comes ahead of the COP26 climate summit which will be held in Glasgow from Sunday .
It says: "There is less emphasis on reducing demand for high carbon activities than in the CCC's scenarios.
"The government does not include an explicit ambition on diet change, or reductions in the growth of aviation, and policies for managing travel demand have not been developed to match the funding that has been committed."
The committee added: "These remain valuable options with major co-benefits and can help manage delivery risks around a techno-centric approach. They must be explored further with a view to early action."
The government's over-arching Net Zero climate plans unveiled last week showed how almost every sector of the economy should virtually eliminate planet-heating carbon emissions by 2050.
But on the eve of the Budget the committee warns that the Treasury still lacks policies to cut emissions.
It has not explained, for instance, how finances can be raised for a massive investment in clean electricity, or how a great home insulation programme will be prompted and supported.
The committee said: "Currently vague plans must be quickly pinned down for improving home energy efficiency for the 60% of UK households that are owner-occupiers but not in fuel poverty."
More policies are needed, too, to curb emissions from land use and farming, it says.
The criticisms are tempered by praise for the sweeping nature of the government's Net Zero Strategy, which is thought to be the first in the world to demonstrate how emissions can be cut across the board.
The report says the strategy is achievable and affordable, and will create many jobs.
CCC chairman Lord Deben said: "This is a genuine step forward. The UK was the first major industrialised nation to set Net Zero into law – now we have policy plans to get us there.
"Ministers have made the big decisions – to decarbonise the power sector by 2035, to phase out petrol and diesel vehicles, to back heat pumps for homes.
"They have proposed policies to do it. I applaud their ambition but now they must deliver these goals and fill in the remaining gaps in funding and implementation."
This may prove easier said than done, because there is currently a gulf between the government's climate promises and its achievements.
The CCC recently judged that ministers had only achieved around a fifth of the carbon cuts needed to meet previous climate targets.
The COP26 global climate summit in Glasgow in November is seen as crucial if climate change is to be brought under control. Almost 200 countries are being asked for their plans to cut emissions, and it could lead to major changes to our everyday lives.
A government spokeswoman said: "We value the Climate Change Committee's expert advice as we work to implement our comprehensive plan to finish the job and eradicate the UK's contribution to climate change by 2050.
"As the committee rightly highlights, our world-leading Net Zero Strategy builds on the UK's proven track record of having decarbonised faster than any other G7 country in recent decades."
Follow Roger on Twitter @rharrabin
---
Share this article:
---
Related Articles:
---