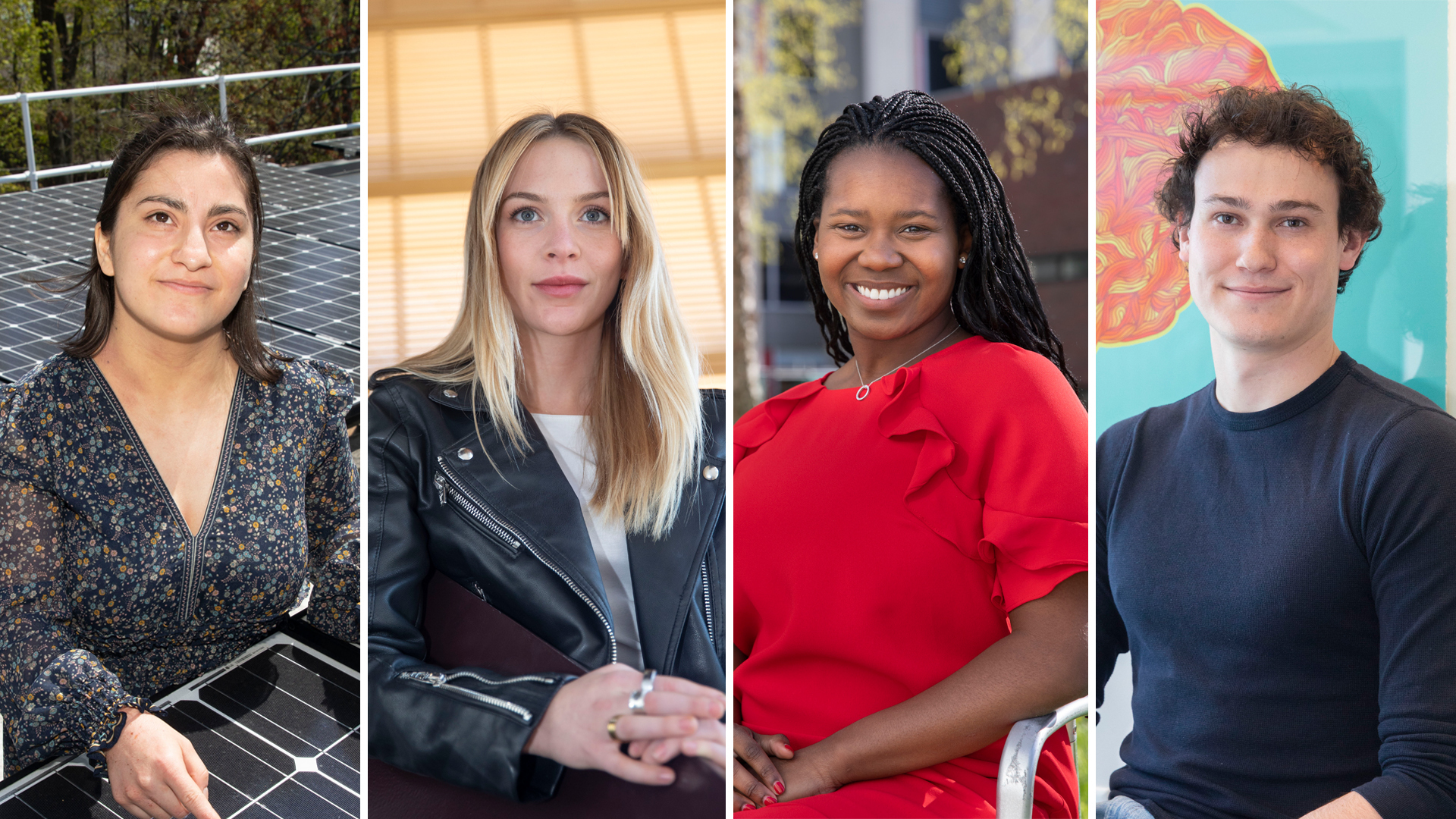 What drives four future climate leaders
Seniors represent diverse backgrounds, concentrations, and perspectives on finding real-world solutions to complex, mounting crisis.
Christy DeSmith • harvard
May 22, 2023

•

12 min

• Source
---
This story is part of a series of graduate profiles ahead of Commencement ceremonies.
They come from various parts of the country, with diverse concentrations and backgrounds. What unites these graduating seniors is a commitment to confronting climate change. All four were awakened to the crisis early in life. That led to studying everything from environmental engineering to public policy, to researching air pollution and corporate interest power, and to elevating critical issues including biodiversity and reducing medical waste. Together, these future leaders form a multidisciplinary front — and lend hope to the most urgent issue of our times.
'It caused people around me to develop rare cancers'
Alayna Jenkins
St. Charles, Missouri
Jenkins, an environmental science and public policy concentrator (with a government secondary) from suburban St. Louis, was an activist from an early age, with a particular passion for human rights.
First she got involved with the movement to end gun violence following the 2014 police killing of Black teenager Michael Brown in nearby Ferguson. Jenkins began to make the connection between human rights and the environment a little later, when she learned of mounting public health concerns involving West Lake Landfill, a nuclear waste site located just seven miles from her home.
This 200-acre Superfund site is contaminated with radioactive waste, byproducts of the Manhattan Project and nuclear weapons production. "It leaked into Coldwater Creek, which sits on a floodplain, and caused people around me to develop rare cancers," Jenkins said. That drove her involvement at age 16 with the Missouri Coalition for the Environment , which has pushed for the removal of radioactive material from the site.
At Harvard, Jenkins kept pursuing the link between the environment and human rights. Her capstone project probed the connection between air pollution and mental health disorders. She started working for the Office of Sustainability's Resource Efficiency Program to promote sustainability efforts in undergraduate Houses and dorms. She also put some of her training to work on behalf of her home state, currently serving as president of the Gen Z-led Missouri Biodiversity Project .
In 2022, Jenkins helped represent Harvard at COP27 , the United Nations Climate Change Conference in Egypt. From there she became involved with various UN climate initiatives, including a formal youth constituency group. "We come together from more than 100 countries to draft statements about our needs," Jenkins explained. "Because our generation is going to be tackling climate."
As Jenkins plans a career in public service, she can't help but think back to a group of nuns who gathered regularly near the West Lake Landfill. She remembered praying with them for a better future for all those adversely affected by exposure to radioactive waste. "That's something I've thought about at Harvard," Jenkins said. "I literally have that better life."
'Riots would break out because of a rumor'
Quinn Lewis
Berkeley, California
The government concentrator calls climate her North Star.
During a gap year, Lewis initially went to Florence to study painting. But she felt "ethically and morally removed" after the Parkland shooting and other public tragedies. In search of something more fulfilling, Lewis soon found herself teaching middle school in Cape Town, South Africa, where she received a crash course on resource scarcity.
"As soon as I landed, I was informed that I had 45 seconds of running water," said Lewis, who knew of the country's drought but not of its severity. "It was like a social tinder. Riots would break out because of a rumor that the water would be turned off. All of a sudden buses are being lit on fire in the middle of the street, and kids can't come to school."
Upon entering Harvard, Lewis resolved to think big and work for structural change on climate challenges worldwide. "Harvard gives you access to systems of power," she said. "I showed up thinking I want to do something about climate. I didn't know what. I'm not a science person. I'm not a math person."
She found her niche in research and writing. Her senior thesis, with the tongue-in-cheek title "The Political Economy of Saving the World," is an ambitious reckoning with the power of corporate interest groups. It puts forth a model for understanding and even anticipating the cultural and economic forces that allow certain industries to stymie climate policy. Coal is only the most obvious example.
"But coal is not the only industry that blocks climate change policy," Lewis said. "There are other industries with similar traits that are going to be problems in the future. We need to be able to anticipate this. We can no longer have this thing where we introduce a policy, and everyone freaks out, and then the policy fails."
Lewis also helped launch the Student Climate Change Conference at Harvard and wrote climate-related case studies for Harvard Business School curriculum. She is currently working with the Roosevelt Project , a joint MIT-Harvard climate initiative, where she's contributing to a report on improving the energy transmission system for renewables.
Longer-term, Lewis hopes to continue with her research and writing, perhaps in a Ph.D. program, or maybe creating tools for policymakers. But first, she will head to New York City to work full-time with an investment bank, with the goal of building fluency in that influential sector. "If everything goes well," she added, "I'll work with the power and energy group."
'I refilled her reusable water bottle'
Cole Petersen
Snowmass Village, Colorado
As a child, Petersen was surrounded by reasons to care for the environment. The neuroscience concentrator (with an environmental science and public policy secondary) grew up amid the 10,000-plus-foot peaks of Snowmass Village, a skiing destination and resort town near Aspen. "The public schools there really emphasized outdoor education," Petersen recalled. "To graduate from eighth grade, we had to go on a weeklong backpacking trip."
Another instructive feature of Colorado, Petersen added, is "the 1,000-year drought," which has led to an increase in wildfires and climate stress in the valley where his family lives.
As a teen, his concern for the natural world informed his involvement at a hyper-local scale. He remembered working to reduce single-use plastic for an area college fair. "That's where I met the rep from Harvard," he said with a smile. "I refilled her reusable water bottle."
In College, Petersen merged these interests with a passion for medicine and mental health. As a student, he researched the effects of green space on neurodevelopment and childhood trauma. He landed a job with the Harvard Zero Waste Team and later worked as the Quincy House representative for the Office of Sustainability. As a volunteer, he served as president of the Green Medicine Initiative (GMI) , which partners with Boston healthcare institutions including Massachusetts General Hospital to reduce lab waste, conserve energy use, and boost sustainable plant-based foods.
"Healthcare is actually a significant contributor to pollution and to all these environmental detriments," Petersen noted. "But it can also be an integral player in pushing forward environmental policy."
In 2022-23, Petersen led GMI's involvement with the new undergraduate-led Harvard Climate Coalition. "There are so many climate groups on campus," he said, "but there hasn't been a lot of overlap between them until now. It's been a really positive experience to see how many people care about climate initiatives and are willing to work together."
Petersen plans to apply to medical schools, with long-term plans to pursue pediatric medicine in a rural setting. As a physician, he intends to apply everything he's learned about waste reduction and environmental health. "I've seen doctors at Mass General push forward the sustainability initiative," he said. "That's what I want to do."
'Low-income people get the short end of the stick all the time!'
Maggie Vallejo
Inglewood, California
Eleventh grade was a turning point for Vallejo, an environmental science and engineering concentrator from Southern California. A robotics class kindled her love of tinkering. A chemistry class bolstered her ability to digest complex academic materials and news reports.
"I didn't really understand climate change before that," she confessed.
Particularly memorable was a case study assigned by her chemistry teacher on heightened exposures to PM2.5 concentrations — tiny particles that pollute the air — for those living near highways and airports. "It had a personal impact because I live in Inglewood, which is really close to LAX," the first-generation college student said. "And I wondered, 'Why are there people living near airports? Low-income people get the short end of the stick all the time!'"
At Harvard, Vallejo pursued courses and research opportunities that bridged her interests in science, environment, and public health. She had the opportunity to formally study PM2.5 concentrations, for example, partnering with Harvard climate scientists to analyze the impact of forest fires on Indigenous people living in remote parts of the Amazon Basin. "Because these particles are so small, they can go into your lung pathways and cause respiratory illnesses and even death because it puts you at higher risk for certain types of cancers," Vallejo said.
Vallejo's next big project was with Harvard's Anderson Research Group and its Stratospheric Airborne Climate Observing System . This autonomous aircraft collects data and evaluates the risks involving Antarctic ice melt, flooding, wildfires, and more, with Vallejo's research specifically focused on the solar cells that keep it aloft. She wrote her senior thesis on using electroluminescence imaging to identify tiny cracks and other predictors of power failure. "The main goal was to prevent bad cells from being soldered onto the aircraft," she said.
Next year Vallejo will do a post-baccalaureate program with the Anderson Research Group while considering whether to pursue a Ph.D. "Obviously, climate change is something we need to mitigate," she said. "I want to continue to learn and see where I can improve things."
---
Share this article:
---
Related Articles:
---